Special Rudrabhishekam for First Auspicous
Pradosham of 2023
Maha Mrityunjaya Rudrabhisheka Homam
Allays Dangers to Life, Grants Victory over Death, Heals All Wounds, Mitigates Financial Issues, Strengthens Family Ties and Fulfills Desires
Scheduled Live Stream on January 4, 2023 @ 6:00 PM IST / 4:30 AM PST / 7:30 AM EST
Mrityunjaya Shiva Protects From Evil, Gives Strength, Success and Prosperity
Lord Shiva as Mrityunjaya or the one who gives victory over death is the main deity being worshiped on the day. He is the commander of the cosmos and can create, destroy and preserve the universe. He is easy to please, protects the poor, free of inhibitions and can go to the extent of changing the destiny of an individual. He, therefore protects and blesses his followers with grace, knowledge and peace.
The Rig Veda and Shiva Purana have given great significance to the powerful ritual, Maha Mrityunjaya Homam that brings back to life a person close to death. It also protects people from evil spirits, black magic, evil eye casting and any other negativities in life. Literally meaning victory over death, this most popular ritual gives strength to the healthy to face adversities in life especially those in high positions of office, are not affected by even the slightest of health related problems.
The procedure involves the offering of durva and amrutha grass to the sacred fire and these signify good health and longevity. It purifies the blood and the durva grass is a great healer of deadly diseases like cancer. Therefore, the life span of the person who wants to perform the homam is guaranteed. The ritual also saves a person from bad luck, and gives harmony, success, happiness, prosperity.
Performing Rudrabhishekam along with Maha Mrityunjaya Japa and Homam doubly fortifies the ceremonies of the day. Pradosha kaala, which is the thirteenth day of lunar fortnight or Trayodashi, is a very auspicious time when the ritual will be performed. Lord Shiva narrated the benefits of Pradosham to his consort sati and according to the lord in Kali Yuga, Pradosham is the best way to attain Dharma, Artha, Kama and Moksha. It's also a good opportunity to escape all forms of sufferings and difficulties on earth.
When a Pradosham falls on a Wednesday, it is called Saumya Vaara Pradosham which gives blessings of education, sharp intellect and great achievements in life.
Significance of Maha Mrityunjaya Rudrabhisheka Homam
The Maha Mrityunjaya Rudrabhisheka Homam is special as it invokes Lord Mrityunjaya Shiva by anointing the lingam and uttering intense mantras to please the lord who decides the destiny of mankind. The homam gives back life to the sick and the critically wounded. It gives Moksha (salvation) to those on deathbed. It also protects people from strong evil spirits, black magic and thereby saves from misfortunes and ill will.
Beejaksharam Japam—Maha Mrityunjaya Mantra
Beej means seed and Beejaksharam implies seed syllables which encapsulates the whole mantra.
Tryambakam Yajamahe Sugandhim Pusti-Vardhanam
Urvarukam-iva Bandhanat Mrtyormuksiya Mamrtat
One of the most powerful mantras of Vedic times, the Maha Mrityunjaya mantra provides longevity of life, helps attain immortality and promotes mental, physical and emotional health.
Rudrabhishekam Removes Hurdles, Brings Huge Gains and Radiates Positive Vibes
This is the ultimate puja to Lord Shiva that grants huge blessings to the devotee and also pleases the lord immensely. It involves Abhishekam for Lord Shiva with sacred materials like milk, tender coconut water, honey, holy ash, sandal, oil etc. It eliminates evil spirits, radiates positive vibrations. The puja also removes sins, grants peace, and removes stumbling blocks, grants resources, wealth and a happy life. In doing the ritual, one purifies the five senses namely vision that denotes water, taste that stands for earth, hearing is fire, smell denotes ether and touch symbolizes air. It purifies the atmosphere and removes dosha, helot attain desires, fetches prosperity, peace, happiness and unites families by strengthening bonds.
Maha Mrityunjaya Rudrabhisheka Homam
Allays Dangers to Life, Grants Victory over Death, Heals All Wounds, Mitigates Financial Issues, Strengthens Family Ties and Fulfills Desires
Vedicfolks will perform Rudrabhishem and Maha Mrityunjaya Japa and Homam on the day of Pradosham, a time window when the lord's energies are very close to the earth. This powerful homam is the king of all homams and avoids premature death and increases one's life span. This ritual invokes Lord Shiva and creates a positive shield around the person for whom the homam is being conducted. These powerful forces keep away all nefarious energies and therefore, it turns out to be a life saver.
Maha Mrityunjaya Homam can also be done when a person is critical due to disease or accident, and frees him from danger. The ritual helps to overcome all types of fear, saves from legal litigations, unexpected calamities, sorrows, financial crisis, defamation, nadi dosha, bhakoot dosha (incompatible moon sign formation in the horoscope between prospective couples), Kala Sarpa dosha, Mangal/Mars dosha and confrontations. It also provides succour to Markesh Yoga which is a deadly combination of planets in a horoscope which leads to fatality, life threating situations and unnatural, sudden deaths.
Maha Mrityunjaya Homam also creates a positive aura that rejuvenates the body and awakens the soul. It's also extremely powerful in meditation and healing. By providing success over death, the ritual is a windfall to man in times of major problems. It also ensures prosperity and fulfills desires of the devotee. According to Shiva Purana, the Maha Mrityunjaya Homam helps the devotee attain moksha or salvation.
Benefits of Maha Mrityunjaya Rudrabhisheka Homam
Cures prolonged illness and keeps one healthy.
Avoid untimely death and health problems.
Removes mortal fear and gives victory over enemies.
Removes malefic effects of planets especially Markesh or Kendrathipati yoga.
Conquers death and leads to success in life.
Purifies thoughts and action and grants spiritual progress in a person.
Fulfills wishes, bestows prosperity, progeny, intelligence and longevity.
Brahmadesam Sri Kailasanathar Temple Puja
Removes Curses, Sins, Gives Prosperity, Victory in all Tasks
Sri Kailasanathar Temple in Brahmadesam village near Ambasamudram in Tirunelveli, Tami Nadu State, is a 1000-year-old huge temple which is an architectural and sculptural marvel. The temple was built by Cholas, Cheras, Pandyas and Nayakkar kings. But it is said that Lord Brahma's grandson Romasa Rishi was the first to discover the swayambu linga, and began worshipping it. There are five shrines inside the temple for Lord Shiva as Kailasanathar, Badari Vaneeswarar, Chokkanathar, Annamalai and Vishwanathar. The main goddess in this temple is Periyanayaki or Brahannayaki. The main shrine has four sections namely, the sanctum, ardha mandapa, maha mandapa and the exterior mandapa. The east facing Lord Kailasanathar is represented by a large Shiva Linga which is the presiding deity. The idol of Lord Nataraja is made of Punugu, a kind of perfume. A visit or puja in this extremely holy shrine is equal to visiting or performing puja at Kasi Viswanathar Temple. The lord when venerated, removes sins, curses, and effects of bad karma. Also a person can attain immense prosperity, victory in all tasks, wealth and happiness.
Energized Shiva Linga Worship
Safeguards from Dangers, Gives Prosperity, Peace & Contentment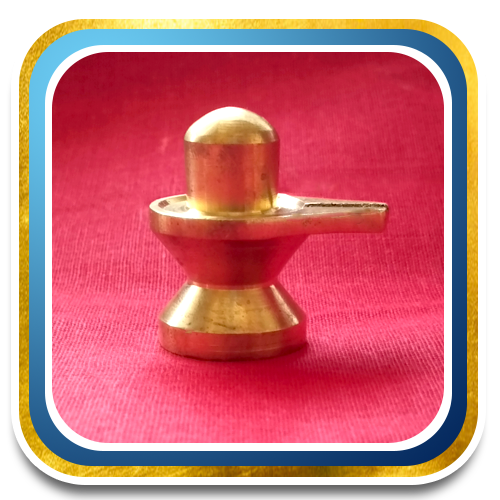 A very powerful symbol of Lord Shiva, the lingam is a representation of the union of a primordial energy of the Shakti with divine consciousness that is Lord Shiva. It connotes a column of light that has no beginning or end. An energized Shiva lingam has the power to radiate positive vibrations around you of peace, harmony and oneness. It can also be used as an instrument of mediation and the energy from it transcends one to the realm of bliss and spiritual revelation and growth. It gives prosperity, protection and contentment.
YouTube Video: